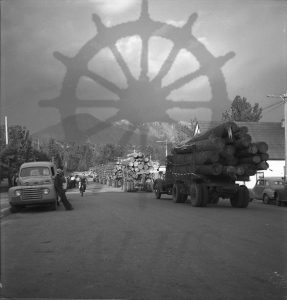 : 2012.003.825
: J95-7
:
: 1950-07-01
: 1950s, Annas; Peggy, Broadway Street, Canada Day, forestry, logging trucks, parade, Queen of the Arrow Lakes, and Summit Peak
: Nakusp
:
1 b/w negative (60 mm)
:
Logging trucks decorated for Peggy Annas' campaign for Queen of the Arrow Lakes moving along 200 block of Broadway Street West, July 1st parade, Nakusp, 1950. Hakeman's Imperial Garage at centre. Nakusp Meat Market at right.