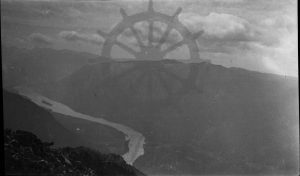 : 970.32.1.22
: O17-8
:
: 1929-- - 1933--
: 1930s, Arrow Park (Mosquito) Creek, Columbia River, Mount Ingersoll, Saddle Mountain, Swan Island, and The Narrows
: Arrow Park, Carrolls Landing, East Arrow Park, Grahams Landing, and Saddle Mountain
:
1 b/w negative (14.0 cm x 8.5 cm), 1 b/w photograph (14.4 cm x 9.0 cm)
:
The Narrows (Columbia River) and Mount Ingersoll as seen from summit of Saddle Mountain, ca. 1929-1933. Arrow Park at bottom centre with East Arrow Park at left across river. Arrow Park (Mosquito) Creek valley at bottom right. Carrolls Landing (left bank), Swan Island, and Grahams Landing (right bank) at left centre. Burton (left bank) and Bellevue (right bank) located at riverbend beyond Swan Island.
Purchase Print