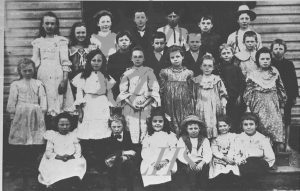 : 2014.003.913
: A49-13
:
: 1904--
: 1900s, Bourne; Frank, Brett; Charlie, Dunlop; Phil (Parent), Falconer; Alice (McKissock), Fraser; Irene (Genelle; Hughes), Genelle; Art, Harlow; Ken, Hector; Ruth, Ingram; Clarence, Jordan; Alice, Jordan; Howell, Leary; Florence (Jordan), Ledger; Willow (Vanderburgh), McKinnon; Earl, Morrison; Bessie, Morrison; Bill, Nakusp School (1894-1912), Parent; Joseph Jr., Russell; Deneige 'Denny' (Parent), school, Thomas; Elmore, Thompson; Archie, Thompson; Ella, Thompson; Viola, Vanderburgh; Charlie (younger), and Vanderburgh; William 'Bill'
: Nakusp
:
1 b/w negative (35 mm)
:
Class portrait in front of original Nakusp School, c. 1904. Children are dishevelled because they had been playing 'pom pom pull away'. TOP(l-r): Viola Thompson, Willow Vanderburgh, Bessie Morrison, Earl McKinnon, Elmore Thomas, Clarence Ingram, Charlie Brett. 2ND: Charlie Vanderburgh, Ken Harlow, Archie Thompson, Howell Jordan. 3RD: Ella Thompson, Alice McKissock, Philvia Parent, Alice Jordan, Deneige Parent, Francis Bourne,, ?, Willie Vanderburgh. BOT: Ruth Hector, Bill Morrison, Irene Genelle, Joe Parent, Florence Jordan, Art Genelle.
Purchase Print