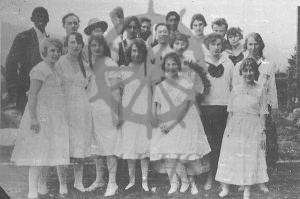 : 2014.003.119
: A7-16/B50-19A
:
: 1920--
: Gene Leveque and Milton Parent
: 1920s, Calhoun; Inez (Carlson), Calhoun; K., Carlson; Ed, Denholm; Amy (Gardner), Gardner; Maud (Williams), Harvey; Nellie, Herridge; Emma (Masters), Hoover; Marion (Bailey; Hoogerwerf), Keys; Mary (Kirk), Kiele; Maisie, Kill Kare Club, Kirk; Fred [Glenbank], Leveque; Eugene Joseph 'Gene', Leveque; Hercule 'Eric', Livingston; Margaret, Mann; Harold, Mathers; Alice (Leveque; Akerman), McCormack; Pearl (Parent), Parent; Della (Leveque), Peterson; Carl, and play/theatre
: Nakusp
:
2 b/w negatives (35 mm)
:
Group portrait of Kill Kare Club cast members, Nakusp, ca. 1920. TOP(l-r): Ed Carlson, Gene Leveque, Margaret Livingstone, K. Calhoun, Fred Kirk, Eric Leveque, Carl Peterson, Marion Bailey, Harold Mann, Maisie Kiele. MID: Maud Gardner, Amy Gardner, Mary Kirk. BOT: Emma Masters, Pearl Parent, Inez Carlson, Nellie Harvey, Alice Leveque, Della Leveque.
Purchase Print