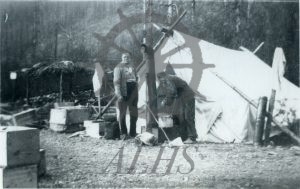 : 2016.013.8.38
:
:
: 1920-- - 1929--
: Terryl Allen (Estate of Marvel Milne)
: 1960s, Banting; William J., camping, Killarney Group (mines), Lightning Peak, Malstrom; Nels, and mining
:
1 digital image (3438 x 2160 pixels)
:
W.J. Banting (left) and Nels Malstrom (right) of Edgewood at their mining camp tent, ca. 1920s. This may be Banting's Killarney group of claims two miles northeast of Lightning Creek, northwest of Edgewood.