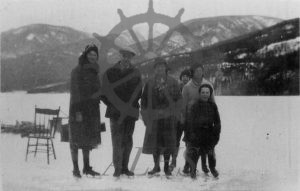 : 2016.013.7.4
:
:
: 1920-- - 1929--
: Terryl Allen (Estate of Marvel Milne)
: 1960s, Brekke; Doris (Watson), Lower Arrow Lake, McLeod; Paddy, Nesbitt; Victor Orley 'Spike', Niederman; Mrs. Emil, skating, Yeld; Dr. Reginald, and Yeld; Muriel (Hart)
: Edgewood
:
1 digital image (3387 x 2160 pixels)
:
Group skating on Lower Arrow Lake, ca. 1920s. L-R: Muriel Yeld, Dr. Reginald Yeld, Mrs. Niederman, Spike Nesbitt (Orley Nesbitt), Doris Brekke (nee Doris Watson), Paddy McLeod.