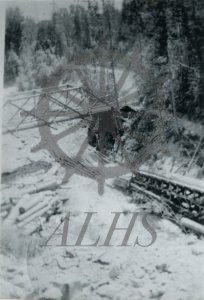 : 2016.013.5.11
:
:
: 1914-- - 1919--
: Terryl Allen (Estate of Marvel Milne)
: 1910s, bridge, Inonoaklin Creek, Inonoaklin Valley Road, log flume, and Red Bridge (Edgewood)
: Edgewood
:
1 digital image (2126 x 3130 pixels)
:
Bridge across Inonoaklin Creek (Lower Inonoaklin Bridge or 'Red Bridge') leading to west side of Edgewood, ca. 1910s. West is at top. Modern Edgewood townsite was constructed on west side of bridge at the end of the 1960s.