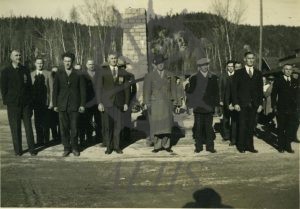 : 2016.013.4.19
:
:
: 1946-11-11
: Terryl Allen (Estate of Marvel Milne)
: 1940s, cenotaph, Craft; William 'Bill', Edgewood Avenue, Inonoaklin Valley Road, Menard; Charlie, Morrison; Hugh, Pagara; Al, and Royal Canadian Legion Branch 203
: Edgewood
:
1 digital image (3834 x 2669 pixels)
:
Royal Canadian Legion Branch 203 members posing in front of cenotaph during ceremony, Remembrance Day, Inonoaklin Valley Road at Edgewood Avenue, Edgewood, 11 November 1946. Al Pagara third from left. Charlie Menard third from right. Bill Craft second from right. Hugh Morrison at far right.