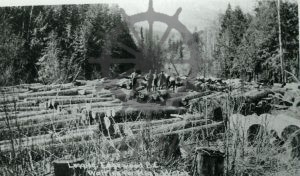 : 2016.013.2.8
:
:
: 1910-- - 1925--
: Terryl Allen (Estate of Marvel Milne)
: Coates Brothers logging camp, forestry, Inonoaklin Creek, logging, and logging camp
: Edgewood
:
1 digital image (3030 x 1775 pixels)
:
Men posing atop pile of logs waiting for high water to be floated downstream, Edgewood, ca. late 1910s-early 1920s. This may be the Coates Brothers Logging camp at the north end of the Inonoaklin Valley.