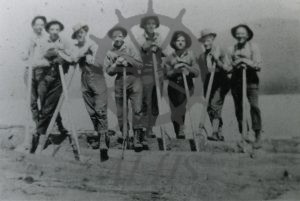 : 2016.013.2.18
:
:
: 1920-- - 1929--
: Terryl Allen (Estate of Marvel Milne)
: Briggeman; Fred, Briggeman; Ralph, forestry, log booms, Lower Arrow Lake, McLeod; John N., Nesbitt; Earl, Nesbitt; Fred Jr., Nesbitt; Fred Sr., Nesbitt; John, and Nesbitt; Wilfred 'Wig'
: Edgewood
:
1 digital image (2964 x 1984 pixels)
:
Workers posing atop log booms, Lower Arrow Lake at Edgewood, ca. 1920s. L-R: Earl Nesbitt, Jack McLeod, Fred Nesbitt, Wig Nesbitt, John Nesbitt, Ralph Briggeman, Fred Briggeman, Fred Nesbitt Sr.