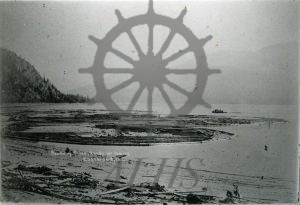 : 2016.013.2.17
:
:
: 1915-- - 1925--
: Terryl Allen (Estate of Marvel Milne)
: Dump Beach, forestry, Lindsley Bros., log booms, and Lower Arrow Lake
: Edgewood
:
1 digital image (2666 x 1821 pixels)
:
Log booms at Dump Beach, Edgewood, Lower Arrow Lakes, ca. late 1910s-early 1920s. Notes from Bruce Rohn: 'Boom of poles from new Inonoaklin flume. Poles were towed to new Lindsley Brothers poleyard at Wesley (just above West Robson)'.