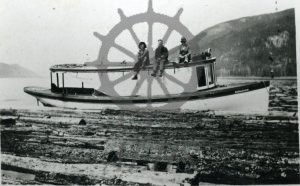 : 2016.013.2.15
:
:
: 1920-- - 1929--
: Terryl Allen (Estate of Marvel Milne)
: 1920s, forestry, Giant (tug), log booms, Lower Arrow Lake, and tugboats
: Edgewood
:
1 digital image (3041 x 1888 pixels)
:
Three workers sitting atop tug Giant in log booms, Lower Arrow Lake at Edgewood, ca. 1920s. Notes from Bruce Rohn: 'not sure about this boat. the only Giant I knew that was on the lake was George Friesens, storekeeper from Renata...there's a name on the bow of the boat but can't read it...fairly long name. but the Giant looks very similar to this one'.