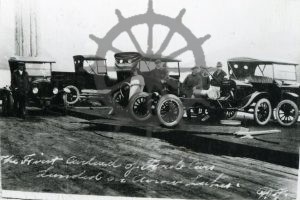 : 2016.013.1.59
:
:
: 1920-- - 1925--
: Terryl Allen (Estate of Marvel Milne)
: 1920s, automobiles, Buerge; Reuben, Ford Model T, Jordan; Ella (Buerge), Lower Arrow Lake, and wharf
: Needles
:
1 digital image (3252 x 2166 pixels)
:
Ella Buerge (centre) and Reuben Buerge (holding son, centre) and others pose with Mr. Buerge's fleet of Ford Model Ts, Needles wharf, Lower Arrow Lake, 1920s. This was the first fleet of Model Ts imported into the Arrow Lakes. Buerge and his staff assembled the cars by hand on the wharf after they arrived in crates.