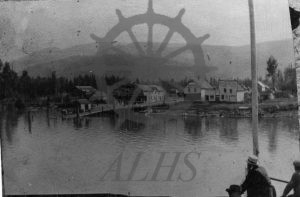 : 2016.013.1.52
:
:
: 1915--
: Terryl Allen (Estate of Marvel Milne)
: 1910s, Arrow Lakes Hotel, Edgewood General Store, Inonoaklin Valley Road, Lake Drive, Lower Arrow Lake, SS Bonnington, sternwheelers, W.J. Banting General Store, and wharf
: Edgewood
:
1 digital image (3497 x 2228 pixels)
:
Lower Arrow Lake waterfront, downtown Edgewood, as seen from bow of SS Bonnington, 1915. Edgewood wharf at centre. Arrow Lakes Hotel above wharf. W.J. Banting's Edgewood General Store and Banting's original store at right.