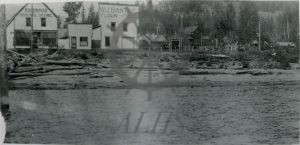 : 2016.013.1.12
:
:
: 1914-- - 1917--
: Terryl Allen (Estate of Marvel Milne)
: 1910s, church, Edgewood General Store, Lower Arrow Lake, St. Agnes Anglican Church, store, and W.J. Banting General Store
: Edgewood
:
1 digital image (3287 x 1592 pixels)
:
Lower Arrow Lake waterfront at Edgewood, 1914-1917. Three buildings at left, L-R: W.J. Banting's Edgewood General Store, real estate office, original W.J. Banting store. St. Agnes Anglican Church seen in background behind gate at centre.