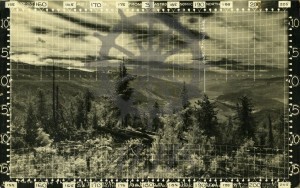 : 2016.004.7.5
:
:
: 1942--
: 1940s, BC Forest Service, forest lookout, forestry, Lower Arrow Lake, orthograph, and Whatshan Lookout
:
1 b/w orthograph bound in foldout book
:
View looking south from Whatshan forest service lookout (ridge between Whatshan and Lower Arrow lakes), Monashee Mountains, 1942. View overlooks a portion of Lower Arrow Lake. Photograph was part of an eight-image set compiled in a foldout book by the British Columbia Forest Service.