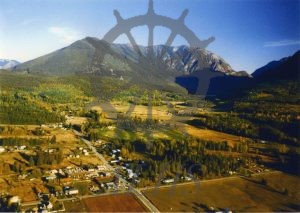 : 2016.003.12
:
:
: 1990-- - 1999--
: 1990s, aerial image, Alexander Road, Gensick Road, Highway 6, Nakusp Centennial Golf Club, and Summit Peak
:
1 colour photograph (27.3 cm x 21.6 cm)
:
Aerial view of south Glenbank and Brouse, ca. 1990s. Highway 6 East runs through centre of photo. Alexander Road at bottom left. Gensick at bottom south. Carson's Corner store/gas station at intersection. Nakusp Centennial Golf Course at centre. Box Lake seen in shadow at top right beneath Summit Peak.