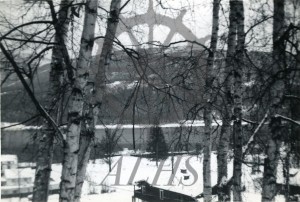 : 2014.048.17
:
:
: 1967-11-
: Edgewood-Inonoaklin Women's Institute
: 1960s, Arrow Park Ferry, Castlegar Ferry, ferry, Ford house (Edgewood), Lower Arrow Lake, wharf, and Williams; Margaret (Marshall)
: Edgewood
:
1 digital image (2710 x 1826 pixels)
:
View of Lower Arrow Lake as seen from Margaret Williams' house, Edgewood, November 1967. Inscription on rear: 'Old Edgewood. Taken from Williams House looking down [at] Mr. Ford House [bottom]. Forestry Bldg, wharf in distance.' Notes from Bruce Rohn: 'That's the Castlegar ferry in background. It was on its way up for service at Arrow Park. This is Nov 1967. This is the second Castlegar ferry. There was 2 ferries down there 1960-67 and this one came up after they finished the dam.' Photo by Margaret Williams.