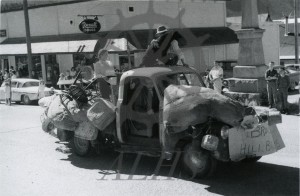 : 2014.036.101
:
:
: 1963-07-01
: Touchstones Nelson - Museum of Art and History
: 1960s, 4th Avenue SW, automobiles, Broadway Street, Canada Day, cenotaph, Edwards Block, Islip store/Rexall Drugs, and parade
: Nakusp
:
1 b/w photograph
:
Broke Hillbillies' float, July 1st parade, Broadway Street at Slocan Avenue, Nakusp, 1963. Edwards Block and cenotaph seen at back. Image by Willy Frick ('Picture Willy') and stamped 'Frick's Foto Service, 407 Slocan Ave., Nakusp, B.C.'.