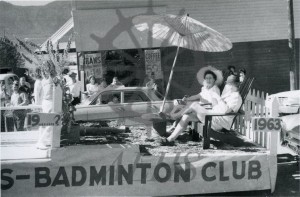 : 2014.036.100
:
:
: 1963-07-01
: Touchstones Nelson - Museum of Art and History
: 1960s, 402 Broadway Street W, badminton, Broadway Street, Canada Day, Nakusp Badminton Club, Overwaitea Foods, and parade
: Nakusp
:
1 b/w photograph
:
Woman riding on back of Badminton Club float, 1963 July 1st parade, Broadway Street, Nakusp in front of Overwaitea (Broadway at Slocan Avenue). Image by Willy Frick ('Picture Willy') and stamped 'Frick's Foto Service, 407 Slocan Ave., Nakusp, B.C.'.