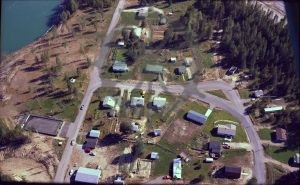 : 2014.026.426
: N53-6
:
: 1970-08-
: 1970s, aerial image, Edgewood Community Park, Kilarney Crescent, and Lakeshore Avenue
: Edgewood
:
1 colour negative (60 mm)
:
Aerial view, south end of Kilarney Crescent and its intersection with Lakeshore Avenue, new Edgewood townsite, August 1970. New community park at left. Tennis court at bottom left across the street from new post office. New Edgewood General Store just visible at bottom left. New St. Agnes Anglican Church at bottom right.