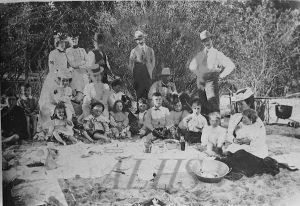 : 2014.003.510
: A30-6
:
: 1895-- - 1905--
: Archard; Amelia (Goupille; Genelle; Cobb), Bourne; John, Bourne; Mary, Jordan-Williams; Blanche, Kuskanax Point, and picnic
: Nakusp
:
1 b/w negative (35 mm)
:
Group having picnic on beach at Kuskanax delta, Nakusp, turn of 20th century. Mrs. Genelle at top left with Mrs. Bourne directly below her. Mr. Bourne top right. Mrs. F.W. Jordan bottom right.