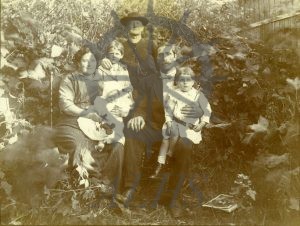 : 2012.012.6
: G33-36
:
: 1917-10-
: Estate of Margaret Nelson and Margaret Nelson
: 1910s, baptism, Nelson; Agnes (Mauchline), Nelson; John, Nelson; John W., Nelson; Margaret, Nelson; Walter, and Taylor; Reverend Lintott
:
1 b/w photograph (10.8 cm x 8.4 cm); 1 b/w negative (35 mm)
:
Group portrait (outdoor), Margaret Nelson's baptism, Galena Bay, October 1917. L-R:Agnes Nelson, Margaret Nelson, Walter Nelson, Rev. Lintott Taylor, John Nelson (elder), John Nelson (younger).