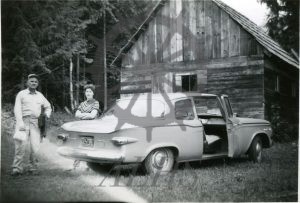 : 2012.012.21
:
:
: 1962-09-02
: 1960s, automobiles, John Nelson farm, Nelson; Margaret, and Nelson; Walter
:
1 b/w photograph (8.8 cm x 6.2 cm)
:
Walter Nelson (left) and Margaret Nelson (right) posing next to Margaret's car at the John Nelson farm, Galena Bay, early September 1962. Inscription on rear by John Nelson: 'Margaret's first trip to Galena Bay by her own car. Aug. 19th to Sept. 2nd /62. Sent Oct. 10th 62.' Margaret was living in Fernie at this time. Photo by John Nelson.