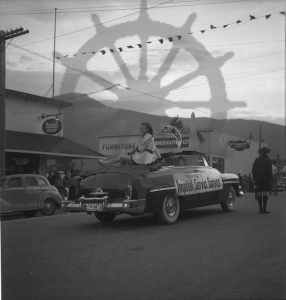 : 2012.003.946
: J115-1
:
: 1952-07-01
: 1950s, 402 Broadway Street W, automobiles, Broadway Street, Canada Day, Edwards Block, Hakeman's Imperial Garage, Islip store/Rexall Drugs, Milner; Ellinore (Nixon), Nakusp Diamond Jubilee, Overwaitea Foods, parade, and Queen of the Arrow Lakes
: Nakusp
:
1 b/w negative (60 mm)
:
Miss Imperial Service Ellinore Nixon, Queen of the Arrow Lakes pageant contestant, riding on back of float car on 300 block of Broadway Street during July 1st parade, Broadway Street, Nakusp, 1952. Ralph Islip's grocery/Rexall Drugs store at left. Overwaitea Foods in background.