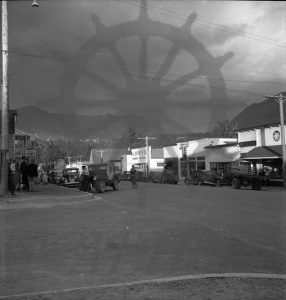 : 2012.003.908
: J108-2
:
: 1952-07-01
: 1950s, 306 Broadway Street W, 312 Broadway Street W, 314 Broadway Street W, Arrow Lakes Supply Co., automobiles, Broadway Cafe/Royal Cafe, Broadway Street, Canada Day, Nakusp Hardware, Slocan Avenue, and store
: Nakusp
:
1 b/w negative (60 mm)
:
Broadway Street looking eastward at intersection with Slocan Avenue, Nakusp, 1 July 1952. Broadway Cafe at left. Buildings in background, L-R: Hakeman's Imperial Garage, Nakusp Meat Market, Nakusp Ice Cream Parlour, Arrow Lakes Supply Co., Jupp's Men's Wear, Nakusp Hardware, B.C. Telephone, Rexall Drugs.