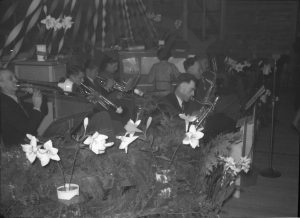 : 2012.003.852
: C24-12/J98-3
:
: 1948-04-30
: Estate of Ichiro Shiino and Margaret Hurd
: 1940s, Barrow; Bill, dance, Larson; Lars, Legion Hall (Nakusp), Murphy; Winnie (Jordan), music, Obayashi; Robbie, Picard; Clarence, Vinall; Bill, and wedding
: Nakusp
:
1 b/w negative (35 mm), 1 b/w negative (60 mm)
:
Lars Larson's band playing on stage, Alfred Hurd-Margaret Vinall wedding, Nakusp Legion Hall, 30 April 1948. LEFT (l-r): Bill Vinall, ?, Robbie Obayashi, Bill Barrow. PIANO: Winnie Murphy. RIGHT: ?, Clarence Picard, Lars Larson.