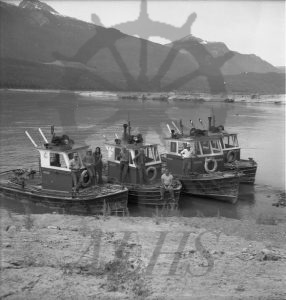 : 2012.003.699
: J83-4
:
: 1970-- - 1979--
: 1970s, Begbie (tug), Celgar, Columbia River, forestry, Horne (tug), Liberty (tug), tugboats, and Wigwam II (tug)
:
1 b/w negative (60 mm)
:
Crew posing on beach with four Celgar tugboats during log drive, upper Columbia River below Revelstoke, ca. 1970s. Boats (L-R): Horne, Liberty, Wigwam II, Begbie.