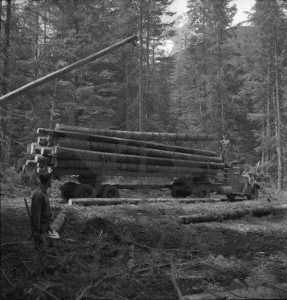 : 2012.003.552
: J68-2
:
: 1945-- - 1952--
: Big Bend Lumber Co., forestry, Hughes; Leslie 'Les', logging, logging trucks, and Surina; Frank
: Rosebery
:
1 b/w negative (60 mm)
:
White pine logs being loaded onto back of Leslie Hughes' logging truck at Rosebery logging camp for Big Bend Lumber Co. of Nakusp, ca. 1950s. Frank Surina at left.