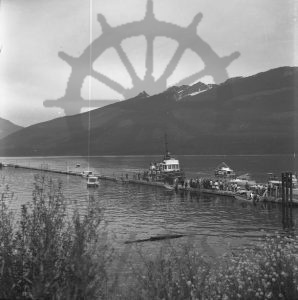 : 2012.003.528
: J64A-8
:
: 1986-06-26
: 1980s, Captain G.O. Sutherland (tug), Celgar, marina, Nakusp Launch Club, Saddle Mountain, SS Minto whistle return (1986), Upper Arrow Lake, and wharf
: Nakusp
:
1 b/w negative (60 mm)
:
Celgar tug Captain G.O. Sutherland docked at Nakusp carrying whistle from SS Minto, 26 June 1986. Whistle was being returned to Nakusp from Castlegar, where it had been for two decades.