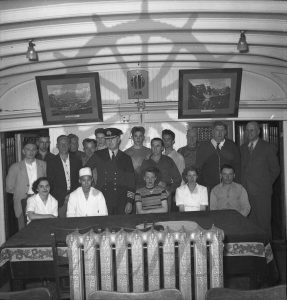 : 2012.003.366
: J45-8
:
: 1951--
: 1950s, Ackerman; Don, Ackerman; Simon, Allen; Jim, Berg; Marg, Delorme; Andy, Delorme; Toni, Dyck; Johnny, Estabrooks; Capt. Otto, Hempseed; Gordon, Hoy Fat, Kiedyk/Kiddick; Ed, Law; Al, Mair; Lloyd, Manning; Diana (Herridge), Podneroff; Sam, SS Minto, sternwheelers, Talbot; Arnold, and Twells; Glen
: Nakusp
:
1 b/w negative (60 mm)
:
Group portrait of attendees for Captain Otto Estabrooks' retirement celebration, SS Minto, 1951. TOP(l-r): Simon Ackerman, Don Ackerman, Johnny Dyck, Ed Kiddick (Kiedyk?), Al Law, Lloyd Mair, Captain Otto Estabrooks, Arnold Talbot, Jim Allen, Glen Twells, Gordon Hempseed, Sam Podneroff, ?. BOT: Toni Delorme, Hoy Fat, Marg Berg, Diana Manning, Andy Delorme.