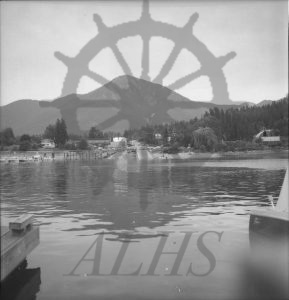 : 2012.003.351
: J44-3
:
: 1986-06-26
: 1980s, Captain G.O. Sutherland (tug), Kuskanax Mountain, marina, Nakusp Launch Club, Nakusp Public Wharf, SS Minto whistle return (1986), tugboats, Upper Arrow Lake, and wharf
: Nakusp
:
1 b/w negative (60 mm)
:
View from tug Captain G.O. Sutherland on Upper Arrow Lake looking toward Nakusp wharf as it returns whistle of SS Minto in order for it to be installed for use at new visitor centre, 26 June 1986.