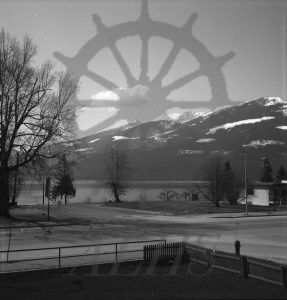 : 2012.003.1082
: J132-8
:
: 1980-- - 1986--
: 1980s, 1st Avenue SW, Broadway Street, Hut Drive-In, Saddle Mountain, Townhouse Apartments, and Upper Arrow Lake
: Nakusp
:
1 b/w negative (60 mm)
:
View from Townhouse Apartments (intersection of Broadway Street and Denver/1st Avenue, Nakusp) of Saddle Mountain, ca. 1980s. Saddle Mountain Medical Clinic at right, Hut Drive-In at left.