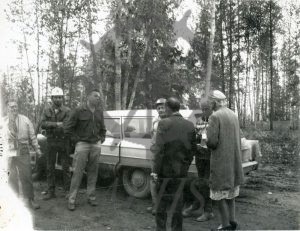 : 2000.012.10
:
:
: 1967-10-
: BC Hydro
: BC Hydro
: 1960s, BC Hydro, cenotaph, and Edgewood Community Park
: Edgewood
:
1 b/w photograph (10.8 cm x 8.6 cm)
:
Locals and BC Hydro personnel conversing at unveiling of relocated Edgewood cenotaph, Edgewood Community Park, new Edgewood, October 1967. The cenotaph had been removed by BC Hydro from the old Edgewood townsite to escape flooded from the Hugh Keenleyside Dam. Each stone of the cenotaph was individually numbered, and the cenotaph was reassembled in the new townsite's park.