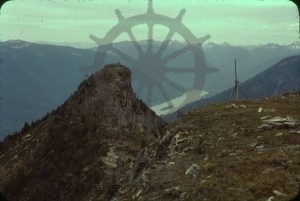 : 1999.019.578
: M35-4
:
: 1959-- - 1967--
: 1960s, Columbia River, Monashee Mountains, Sand Island, Selkirk Mountains, and The Narrows
: Carrolls Landing and Saddle Mountain
:
1 colour slide (35 mm)
:
View from Saddle Mountain Lookout looking south along Columbia River Narrows toward Burton, ca. 1960s. Sand Island at centre with Carrolls Landing to left of island.