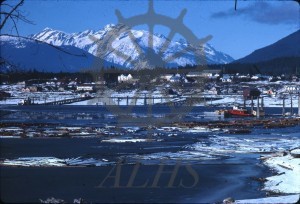 : 1999.019.14
: M1-14
:
: 1963-02-14
: 1960s, Arrow No.1 (tug), Beau Vista Motel, Celgar, forestry, Government wharf (Nakusp), hotel, Leland Hotel, log booms, Mount Burnham, Mount Grady, Rothwell Bay, Upper Arrow Lake, and wharf
: Nakusp
:
1 colour slide (35 mm)
:
Mount Burnham, village of Nakusp, and Rothwell Bay on Upper Arrow Lake in winter as seen from Spicer Farm, 14 February 1963. Leland Hotel at centre. Beau Vista Motel above government wharf at right. Canadian Pacific Railway wharf and workshop at left above Celgar tug.