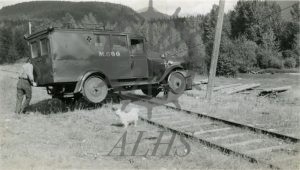 : 1999.015.3
: H14-6
:
: 1930-- - 1945--
: Canadian Pacific Railway, Greenlaw; Archie, Kootenay & Arrowhead Railway, M600 speeder car, and train
:
1 b/w photograph (11.5 cm x 7.0 cm)
:
Workers manually turning around M600 speeder car used to pull train on Canadian Pacific (Kootenay & Arrowhead) Railway, ca. 1930s-early 1940s. Archie Greenlaw was driver of the train; his father is seen at left holding the rear of the car.